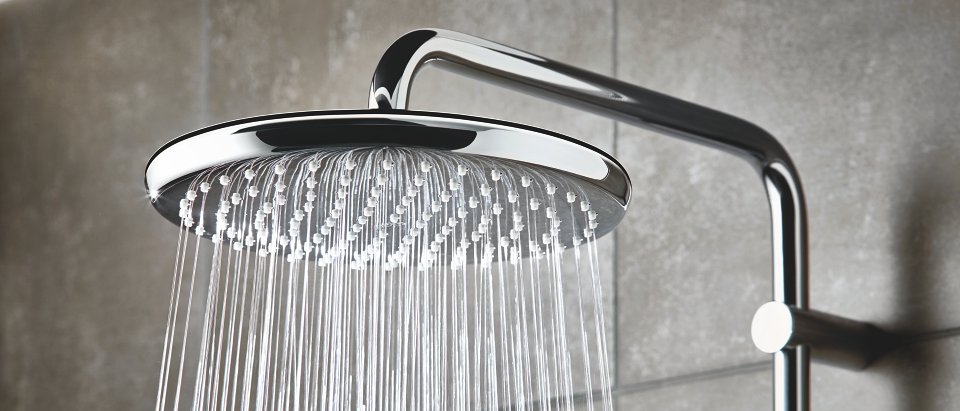 GROHE TEMPESTA SHOWER SYSTEMS
Is your brand new dream bathroom practically complete but you still need to choose a shower? Then look no further than GROHE Tempesta shower systems – the perfect choice for modern bathrooms. Easy to install and packed with the newest technologies to make your shower experience the best yet, you can't go wrong with a Tempesta shower system. The Tempesta range was created with every budget in mind so anyone can feel the difference a GROHE shower experience makes. With the system being a complete solution, this means you save time and money because you don't need to purchase any additional parts or install them.
FIND A SHOWROOM NEAR YOU
WHY A TEMPESTA SHOWER SYSTEM IS THE RIGHT CHOICE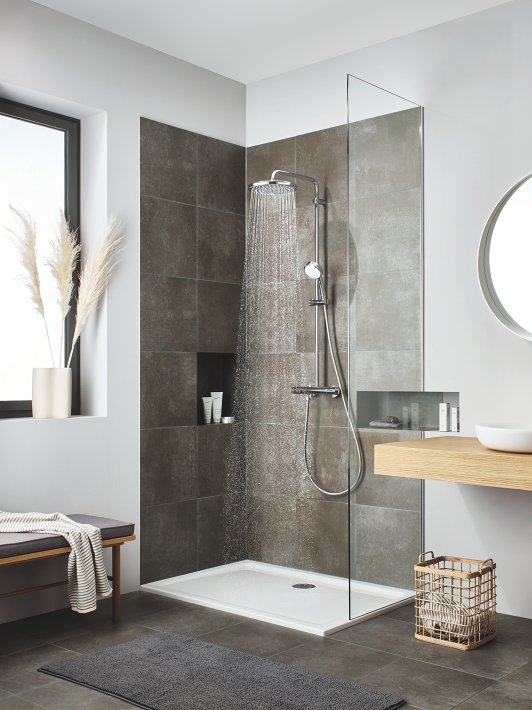 As well as looking the part, Tempesta shower systems are also packed with lots of features to enable the best shower experience possible. The 390 mm-long projection shower arm is able to swivel from side to side so you can find the perfect angle for your showering pleasure. The gliding element on the shower rail easily moves up and down so everyone in the houseful can enjoy the same luxurious experience, no matter their height.
KEY FEATURES OF TEMPESTA SHOWER SYSTEMS
GROHE DreamSpray technology for greater precision and consistent water distribution to each individual nozzle.
GROHE StarLight chrome finish for a long-lasting surface that is extremely resistant to dirt and scratches.
GROHE SpeedClean anti-limescale system prevents limescale build-up and also makes the shower head easier to clean.
Inner WaterGuide protects against scalding and prolongs the life of the chrome surface.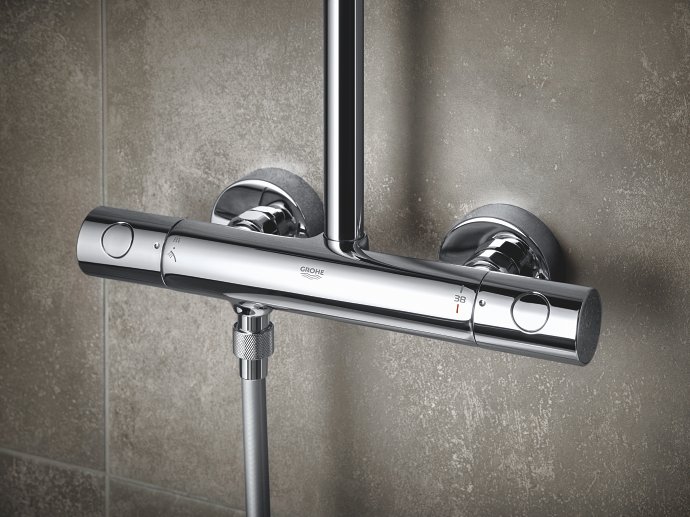 If you didn't think the perfect shower experience could actually get any better, models such as the Tempesta System with Thermostat are available with either 210mm or 250mm shower heads and feature these additional technologies for even more luxury:
GROHE TurboStat delivers water at the desired temperature within a fraction of a second and keeps it constant for the duration of your shower.
GROHE SafeStop ensures the temperature cannot exceed 38°C in order to prevent scalding.
GROHE SafeStop Plus allows you to set an additional temperature limiter at 43°C.
GROHE Twistfree feature stops the hose from twisting on itself and means it hangs as it should.
INTRODUCING THE TEMPESTA 250 SHOWER SYSTEM
Since quality is of the utmost importance, GROHE is constantly striving to offer its customers the best possible products with the newest technologies, and that's where the Tempesta 250 shower system comes in. Available with a round or cube-shaped showerhead design, the modern, slim style fits every bathroom aesthetic. Compared to other showerheads, the one featured in the Tempesta 250 shower system has been widened to 250 mm for more even water coverage while you shower. The shower head's generous size creates a soft, delicate water pattern that soothes the skin. Recreating the feeling of calming summer rain, the Rain spray provides full and even coverage, washes away stress, and leaves you feeling refreshed and relaxed.
Fitted with GROHE EcoJoy technology, the shower systems are designed to save water and energy, therefore conserving valuable resources. The flow limiter restricts the water flow to 9.5 litres per minute, reducing water consumption by up to 40% without compromising on performance so you can still enjoy the perfect flow every time.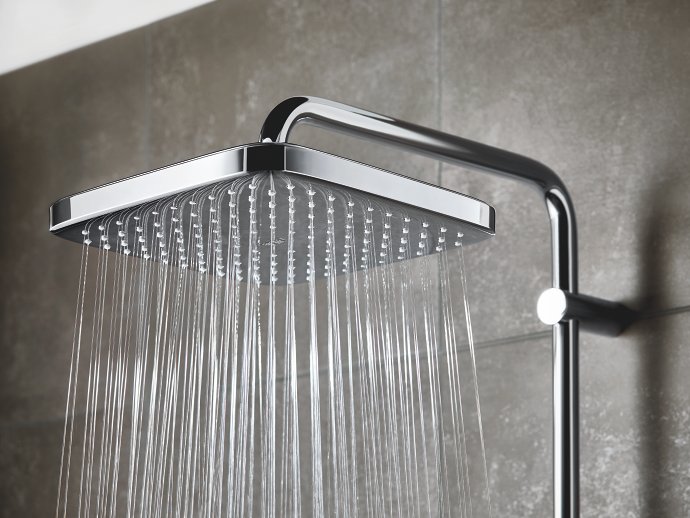 If you opt for the Tempesta Cosmopolitan 250 shower system, you receive a Tempesta 250 head shower, a Tempesta Cosmopolitan 100 hand shower, a thermostat, a shower rail with 390 mm 180° swivable shower arm and gliding element to adjust the hand shower, plus a 1750 mm Twistfree hose. You can also make use of the innovative AquaDimmer function, which allows you to easily switch between the head shower and hand shower. The ergonomic handles are easy to operate, even with wet hands. If you're always searching for somewhere to place the soap between uses, consider purchasing the GROHE EasyReach tray so you'll have a convenient place to store all your shower products.
The GROHE Tempesta Cosmopolitan 250 shower system with bath thermostat means you don't have to miss out on an amazing Tempesta 250 shower system just because you have a bath. The model enables you to enjoy the convenience and comfort of the Tempesta range thanks to its bath outlet.
UPGRADE EASILY WITH THE FLEX SYSTEM
Tempesta 250 shower systems are available with a thermostatic or single-lever mixer and as Flex systems with a diverter, meaning they're compatible with all existing valves in case you simply want to upgrade your previous shower. The Flex shower systems are super versatile and easy to install and simply fit where your old shower rail was fixed, saving you from having to re-tile your shower wall. Simply remove your old shower parts from the wall, check if the existing drilling holes can be used again (they must be 620 mm apart), assemble the GROHE Flex shower system and attach it to the wall, connect one shower hose to the hand shower and one to your existing tap, and enjoy your new and improved showering adventure.
Whichever Tempesta shower system you choose in the end, there's no denying that Tempesta offers superb showering enjoyment at an unbeatable price. Bursting with so many features and being on top of the game when it comes to sustainability, you won't regret purchasing any of GROHE's outstanding products. And with GROHE's five-year guarantee and quality promise, you can't go wrong.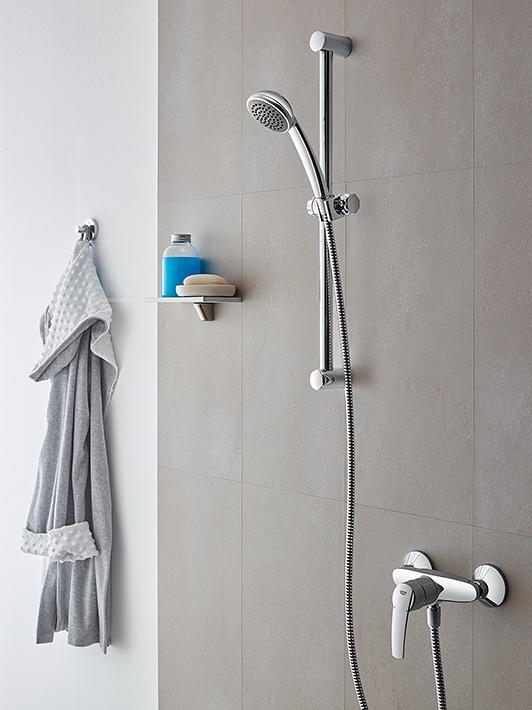 1. Dismount your existing shower set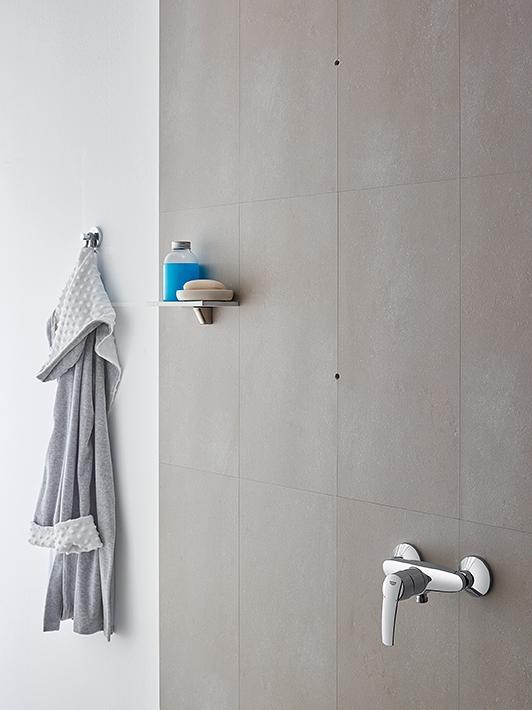 2. Check if existing drilling holes can be re-used (distance = 620mm)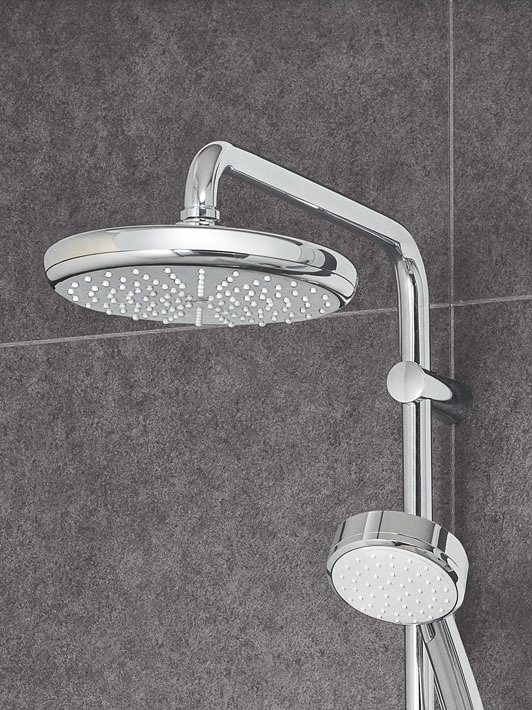 3. Assemble the GROHE Flex shower system and angle the arm correctly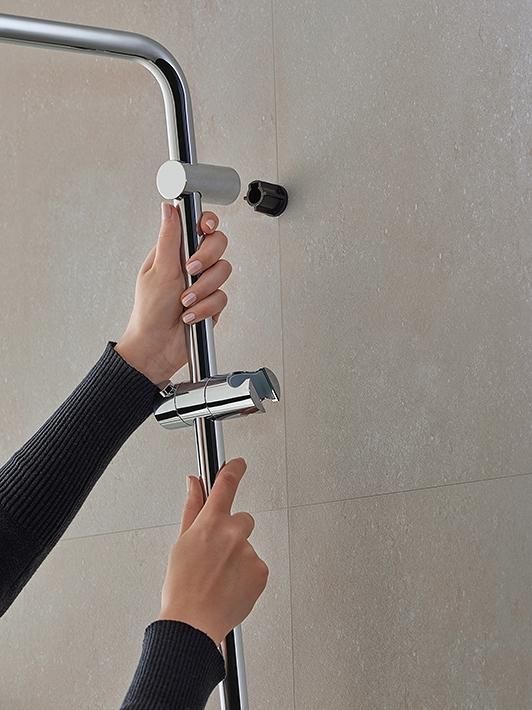 4. Mount the GROHE Flex shower system to the wall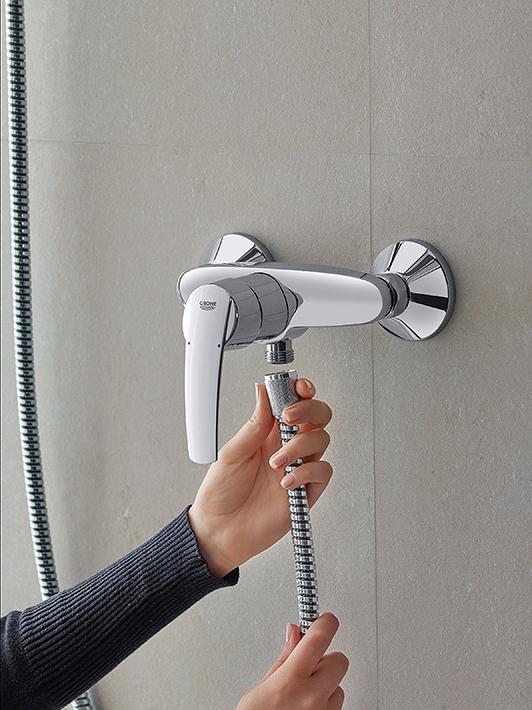 5. Connect one shower hose to the hand shower and one to your existing faucet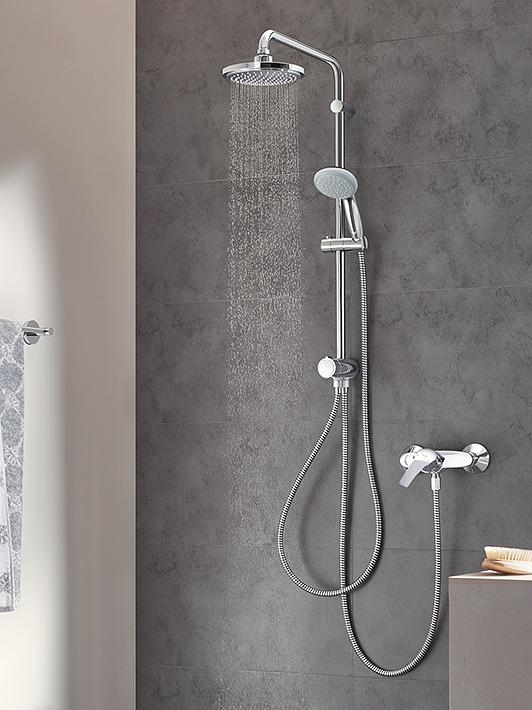 6. Enjoy your enhanced shower experience with your GROHE Flex shower system
Gallery